FAQ knowledge System


FastAnswer2 is an FAQ knowledge system provided by TechMatrix. FastAnswer2 can be used by all industry types and categories of business, regardless of size.
This optimizes responses to "Frequently Asked Questions," simplifying the process of preparing, searching and managing large volumes of FAQs and knowledge items. This improves contact center productivity and the ability for customers to resolve issues on their own, streamlining customer service operations.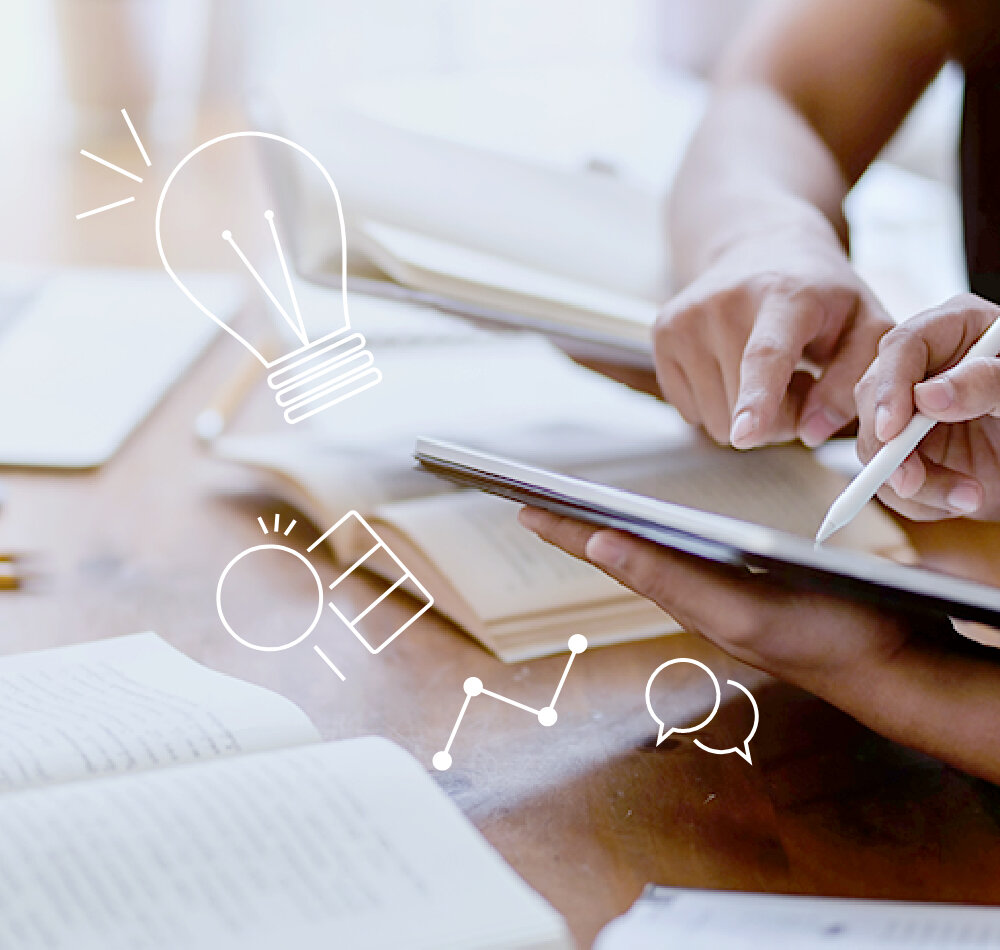 Features of FastAnswer2
Compiling "feedback" retrieved by the contact center into single FAQ knowledge items

FastAnswer2 compiles feedback retrieved by the contact center as FAQ knowledge items to be used as FAQ knowledge that will serve to benefit others.
Based on a concept of "easy to find," "easy to prepare," "easy to expand upon"

FastAnswer2 has been developed to resolve issues with the most suitable FAQ knowledge items being difficult to find amidst large volumes of information, the difficulty in preparing FAQ knowledge items that are of use to others, and the issue of FAQ knowledge items not being updated or expanded upon to include up-to-date information.
Integrated management and use of information required for responses

All information needed to resolve issues, such as FAQs, manuals and other documents and materials, and information found on websites and Intranet sites, are managed as knowledge items to be used for customer service.
Efficient management of information from multiple sites

Internal FAQ knowledge items referenced internally by contact centers and "Frequently Asked Questions" on company websites can be used independently of one another. This allows multiple sites to be managed in an integrated manner on a single system.
An intuitive user interface

FastAnswer2 dramatically improves the efficiency and productivity of screen operators. It also comes packed with a rich array of easy to use support features for administrators to ensure that FAQ knowledge items are kept up to date.
Linking with a CRM system

Master information, product and FAQ information, privilege settings and other information pertaining to FastAnswer and FastHelp can be integrated and managed on a common database, making it possible to use past inquiry information as part of knowledge items.
Advantages
FastAnswer2 enhances the quality of inquiry responses and work efficiency of a contact center,
and increases the customer's ability to resolve issues on their own.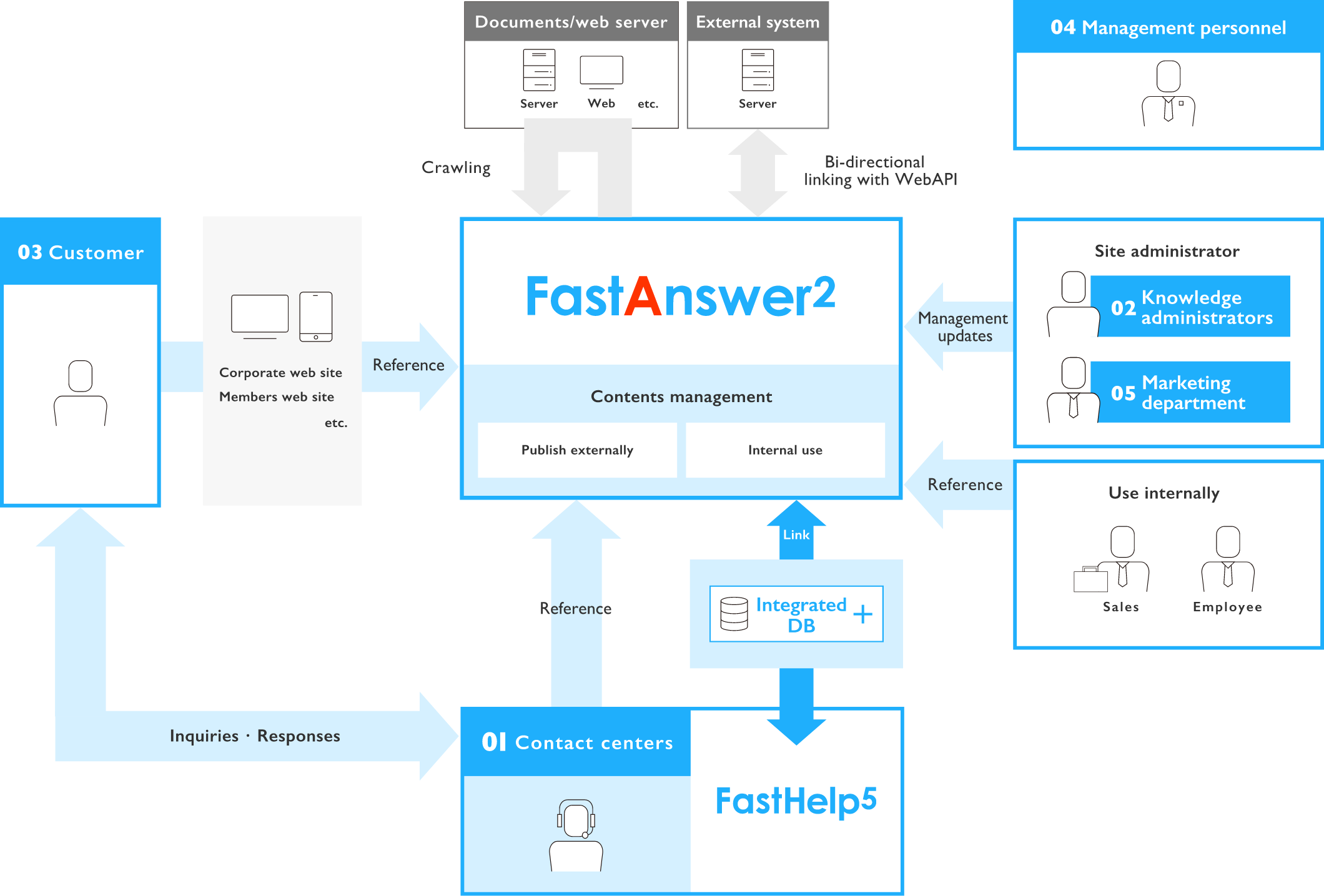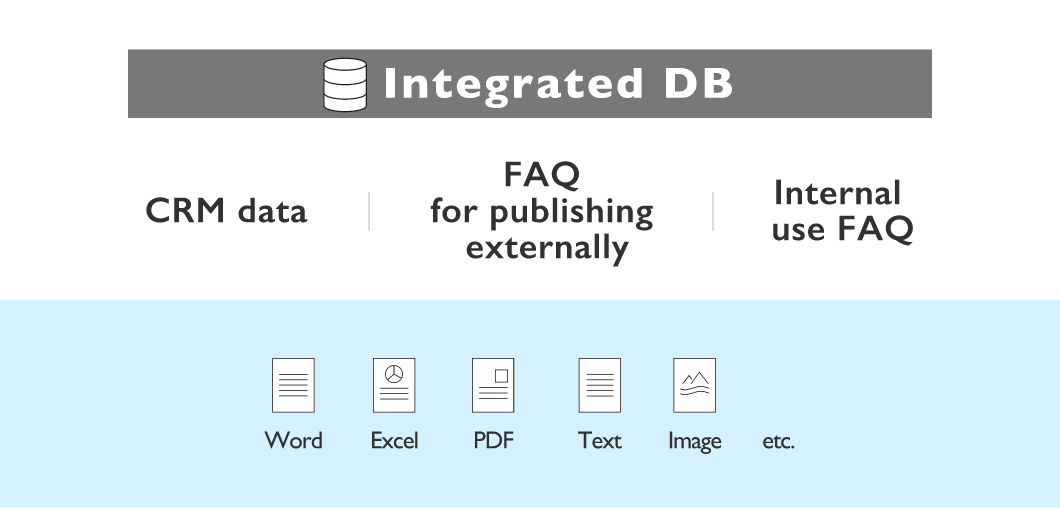 Contact center operators

Maximizing performance

Operators can easily retrieve up -to- date information (FAQs, documents, etc.) needed to respond to customers, and can send back a reply in a timely manner. FastAnswer2 enhances and ensures a set level of quality for responses, regardless of operator skill levels.
Knowledge administrators

Relief from the need to perform
complicated knowledge management

The integrated management of FAQ knowledge items simplifies every process, from adding and changing knowledge items, to sharing updated information. Further, the visualization of FAQ knowledge use can be incorporated back into the PDCA cycle for effective site management.
Customer

Customer satisfaction improvements

Customers can search "Frequently Asked Questions" based on actual inquiries to resolve the issue on the spot. This eliminates the time needed to submit and receive a reply to an inquiry, improving customer satisfaction.
Management personnel

Customer loyalty improvements

The ability to grasp the customer's reaction to company products and services in real time aids the making of prompt management decisions. Customer service quality improvements also help bolster customer loyalty.
Marketing department

Simplified, effective home page management

Updating the "Frequently Asked Questions" shown on your company's home page to match the content and frequency of inquiries received by the contact center is simple. It has never been easier to publish a FAQ that goes to the heart of what customers are looking for.
Main features
List of Features
FAQ management
Document management
Document crawling
WebAPI functionality
Advanced search function
Branching/selection-type FAQ
Suggest function
Report function
Action history analysis
Recommendation assistant function
Templates
SEO measures
Change web designs
Web form management
Web portal (*)
CRM system link
AI link (*)
These functions are due to release in the future. For further details, please make an inquiry.
Related Products/Solutions
Contact center
CRM system

This is a package software that provides a rich array of practical features as standard based on an extensive implementation history.
This is a CRM system used by contact centers in all industry types and sizes.

Please direct all inquiries on pricing and implementation,
and requests to send documentation to the following.