Contact center CRM system


FastHelp5 is a CRM system for contact centers (call centers)
provided by TechMatrix.
FastHelp5 can be used by customer service operations from all industries, and of all sizes.
This system allows for the integrated management of customer information and response histories, as well as providing omni-channel support to help bolster contact center productivity and customer satisfaction.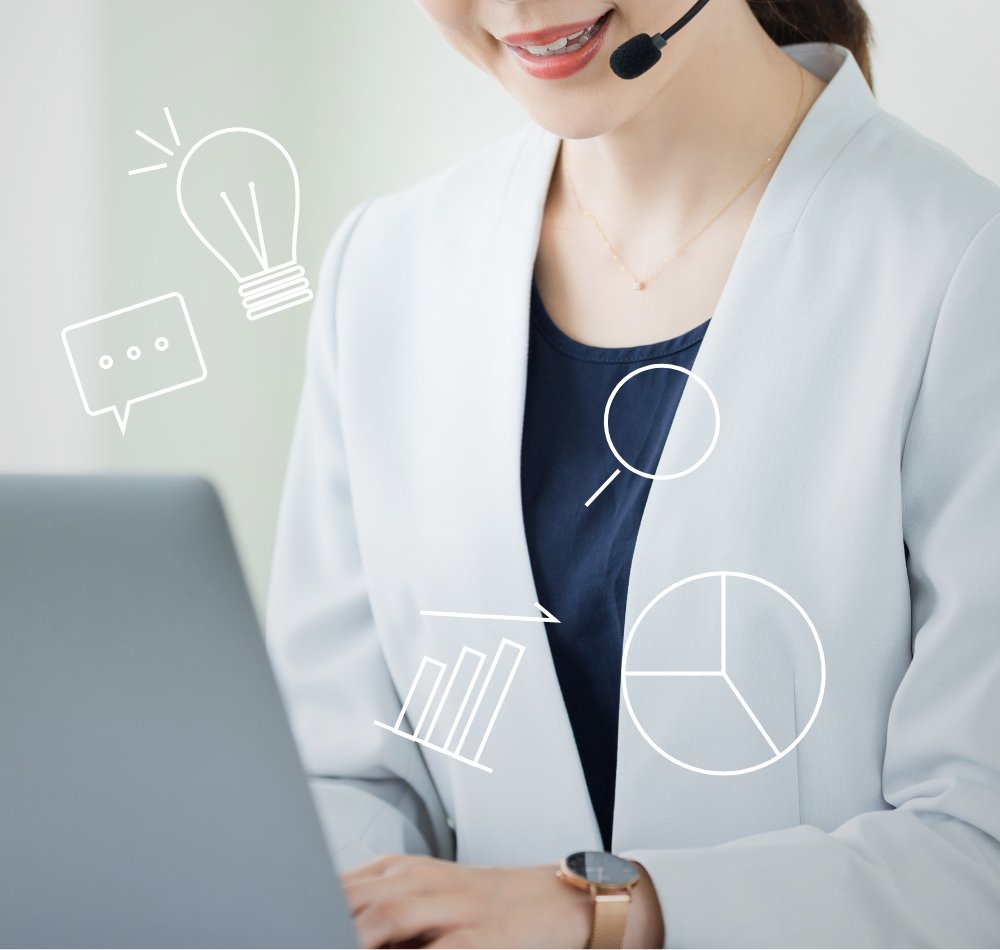 Features of FastHelp5
Provides all features
required for contact center operation

This is a package software that provides a rich array of practical features as standard based on an extensive implementation history. A broad range of features essential to contact center operations are available from the start.
A user interface
that is overwhelmingly easy to use

User-friendly design and operability that never tires the user out, even after extended use. A layout that does not interrupt the work (thought) flow, coupled with self-customization functions that ensure a smoother response to customer inquiries.
Centrally manage and share
all information across the company

Integrated management customer information and response histories across multiple channels, including phone, email and chat messages. In addition to ensuring that issues are promptly escalated to personnel inside and outside the center, FastHelp5 aids the sharing of collected data across the entire company.
Flexibility in customized development
tailored to different usage scenarios

FastHelp5 supports flexibility in customized development tailored to different contact center needs, including the size and activities of the center, and usage scenarios. TechMatrix comes up with the optimal plan for resolving the challenges faced by each contact center.
Support for changing needs and operating environments

FastHelp5 uses a system configuration that can flexibly adapt to changes in the number of operators, increases in the number of contact centers, and other changes. It can also be readily tailored to meet company-specific needs, allowing for the use of CTI, artificial intelligence (AI) and other related solutions, while also providing the ability to link and connect to other internal systems.
Advantages
Using FastHelp5 helps improve the quality of responses to customer inquiries by the contact center and streamlines operations,
while also acting as a powerful tool for enhancing employee and customer satisfaction.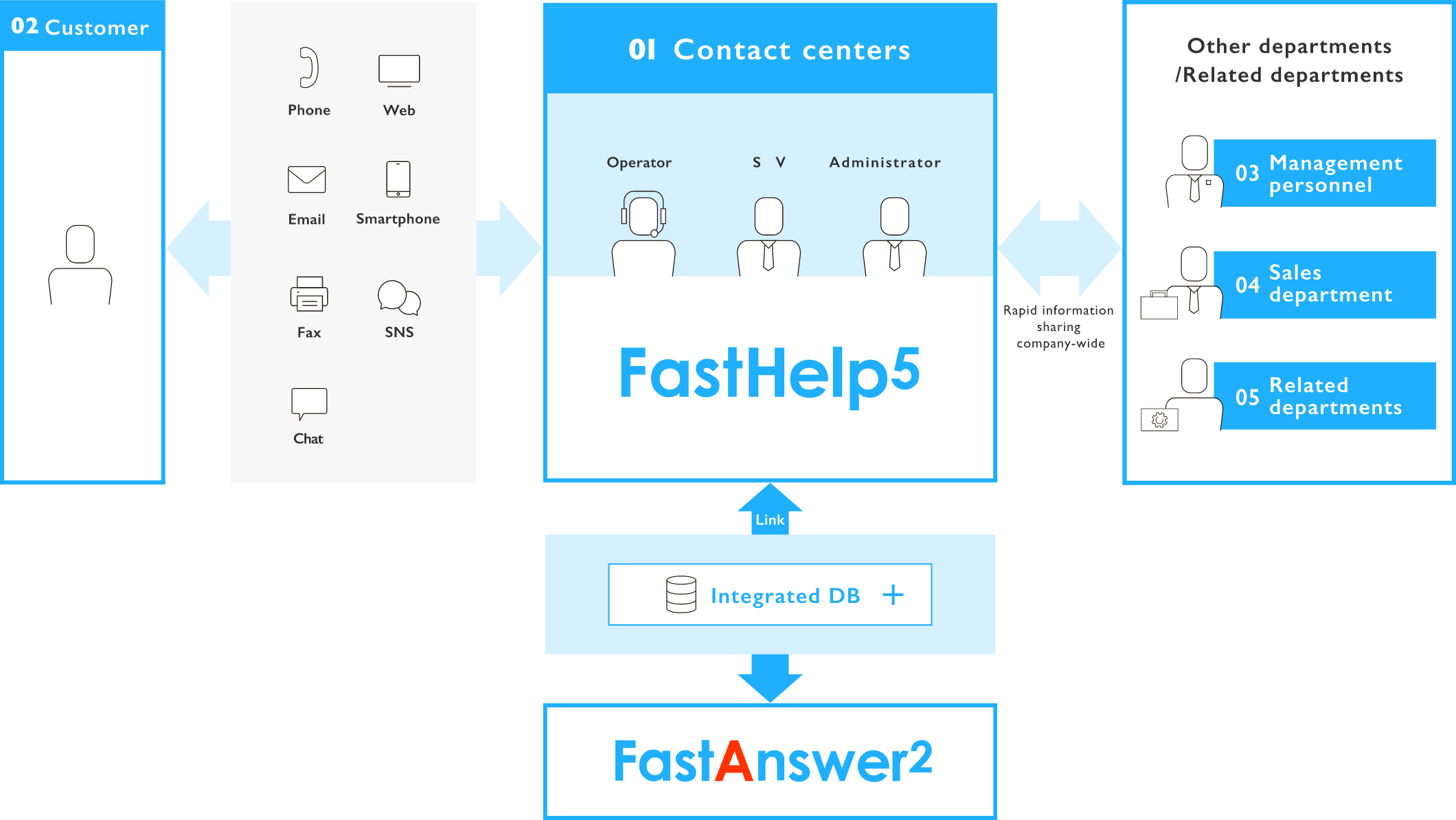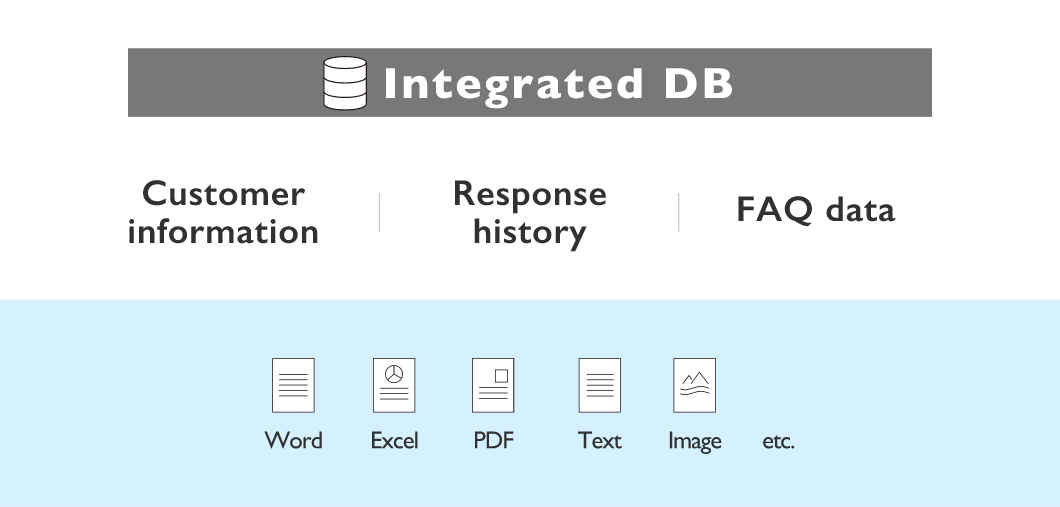 Contact centers

Maximizing performance

The "leeway" and "focus" afforded by having a vast, easy-to-use feature set at one's disposal improves the quality of responses to customer inquiries and productivity. This also helps alleviate stress and motivates operators.
Customer

Satisfaction improvement

Inquiries communicated by phone, email, fax, on the web, in chat messages, over SNS and other channels are resolved on the spot. A conscientious response to customer inquiries greatly enhances customer satisfaction.
Management personnel

Customer loyalty improvement

The ability to grasp the customer's reaction to company products and services in real time aids the making of prompt management decisions. Customer service quality improvements also help bolster customer loyalty.
Sales department

Strengthening of the ability to carve out new potential sales

The integrated management and sharing of customer information promotes the implementation of sales activities based on a sufficient understanding of customer needs.
Related departments

Response to market needs

FastHelp5 makes it possible to retrieve and analyze feedback useful for new product development, product improvements and marketing activities. This also helps optimize investment.
Main features
List of Features
Customer information management function
Response history management function
Self-customization features
Response assist functions
Report function
Outbound function
Messaging function (internal center chat)
Alert function
Ticket tracking function
Import/export
Talk script function
Multi-tenant function
Approval/Workflow function
Escalation function
Processed information monitoring function
To Do list function
CTI link
Phone Recording link
Voice Recognition link
Data link
Screen link
Related Products/Solutions

Please direct all inquiries on pricing and implementation,
and requests to send documentation to the following.